Q1:Can barbeques be arranged?
Is there any place in the vicinity where snorkeling / diving is available? If so, what are the rates?
A1:Yes, we can arrange BBQ. Snorkeling and surfing are very popular in homestay's vicinity.
I arrange a room in
Shili beach guesthouse
for you. There, BBQ is suitable and you can use kitchen and yard. The room has three beds and private bathroom.
rate:
Snorkeling: NT700/person
Please book your airline tickets as soon as possible! As long as you can arrive, we'll keep the room for you and help you having a wonderful vacation.
---
Q2:[seafood, marine culture]
We hope there's lots of seafood there to eat as well! Hope that while we are there you could be kind enough to recommend some of the places to eat delicious and cheap seafood! Thanks a million! :)
A2:Seafood! Sure, no problem!
Penghu is such a nice destination
where seafood, marine culture, nature beauty and smiling people are combined together.
---
Q3:Do you have any recommendations for the cheapest flight from Taipei to Makung
? It seems that Uni ar and Mandarin air does not offer youth prices.
A3:I usually book from the Transasia airlines.
It's the cheapest. One way price is about NT1790.
If airline tickets are hard to book on May 6th, you may come in the afternoon or one day earlier. That is May 5th. On May 5th night, there is 10-15 mins firework show.
---
Q4:I have another interested member who would love to visit Penghu too. Can I reserve lodging at shihli or whale for 5pax? (: if only quad rooms are available, we don't mind squeezing or paying a little more.
A4:Shili Beach Guesthouse's room can accept 6 persons, so no problem if 5 persons come.
---
Q5:[Transportation to taking ferry from Chiayi]
I have been encountering difficulties in trying to plan the transport to Penghu. I will be in Alishan, proceeding down to Chiayi. I'm aware that there is a ferry at Budai port in Chiayi that leaves at 10am. However, could you advice on the best and cheapest way to get to Budai port in time to catch the ferry?
Is there a bus that transfers us from Chiayi train station to Budai port, what is the bus timing, how long is the journey to the port and how much is the cost?
I'm found out that alternatively, we can take a bus from Taipei (Ubus) to Budai that leaves at 4am the night before. Does the bus reach the port directly or do i still have to transfer? how much does the bus ticket cost?
A5:1.From Chiayi train station, you can take the 8:10 ChiaYi bus. It takes 90 mins to Budai port. But you need to walk 2 km to the boarding place after you get off the bus. Although it costs only NT114, it's not safe enough to catch the 10am ferry.
2. Recently, a travel agency offers shuttle service from Chiayi train station directly to the Budai boarding place. It takes NT300. You need to wait in front of the 7-11 before the Chiayi train station at 7am. The travel agency's phone number is 0972113780,06-9952833. (He might not speak English. If so, you can ask me to book for you.)
3.Another travel agency offers shuttle service from Taichung to Budai. Though one way fee is NT450, two way fee is only NT600. You should wait in front of McDonald near Taichung train station at 7am. The agent should be able to speak English and the phone number is (04)2329-3666.
If you leave from Taipei, you still need to transfer.
A5-2:
I heard that the shuttle service from Chiayi gives a cheaper price for ferry ticket plus shuttle service. I would recommend you to choose this one. (Moreover, staying in Chiayi should be more interesting than staying in Taichung, the big city.)
I think you can find a economy hotel near Chiayi train station.
---
Q6:[Weather in Spring]
I have received some advice from forumers that it is currently very cold and windy there. May I know how if sea sports like snorkeling or island hopping is viable?
Also, if I do not know how to ride a bike, what is the cheapest way to travel around the island?
A6:
t's not cold at all after Tomb-sweeping day. (I only wear one long-sleeve thin T-shirt and feel comfortable in such a spring time.)
The weather is getting stable and not so windy.(Most of time, it's calm on the island.)
Snorkeling is OK and other sea sports like surfing, wind surfing, and aquatic activities(engine-powered) are quite popular.
If you just tour around the homestay's neighborhood, you can ride a bycycle to Sansui and Shili beaches, the southern route and so on. To snorkeling and scenic spots is less than 10 km.(mostly between 2-5 km)
You can plan one or half day to the northern part like Cross-sea bridge, 300-year-old banyan tree and etc. Because it's far, we can discuss what's suitable way for you to go there after you arrive Penghu.
---
Q7:[Helping to arrange Chiayi ferry ticket and shuttle]
A7:Thank you for offering to help with the booking of shuttle and ferry tickets and helping me with the payment first. I'm sure that i will be there, boarding the ferry on 24th April. My name, DOB, passport number are as follows...
---
Q8:[Double en-suite room in Whale House is fully booked.]
A8:Sorry, double en-suite rooms in Whale House is fully booked.
Do you mind to stay in a bathroom outside room? Spot C is in Sansui where there is a beautiful beach and is a popular surfing spot. Or we can offer you a cheaper price for a quad room in Whale House.
---
Q9: We prefer having our own bathroom =).
If we are ok not to have a view, are there any double ensuites left at the Whale Guesthouse?
A9:Boat House!
We take over Boat House recently. A boat is a room with private bathroom and resting place.
This is an awesome place. This price is the same with Whale Guesthouse. (En-suite double is NT1500-1800.)
You can even seat in the front place of the boat. And surely you're just beside the seashore.
It's very unique in the whole Taiwan and even in the world.
You can see the attached photos first. (I'll revise our website as soon as possible.)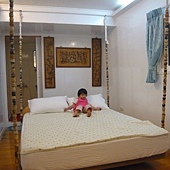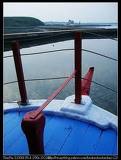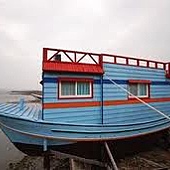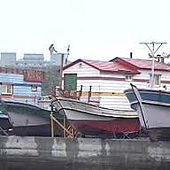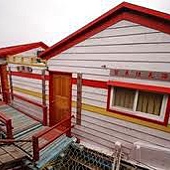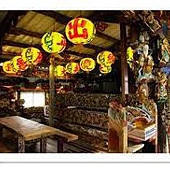 ---
Q10:[isle tour and rate]
We are also interested in going to the other islands in Penghu. Once we confirm that we are definitely going, are you able to arrange boat trips to these islands? Do you know how much it usually costs?
A10:We can arrange all kinds of Penghu tours.
Going to other isles :
*Choice 1: The southern isles-Chimei & Wan-An, NT800/person, include ship fee and 2 isle scooter rental. Usually, it's from 8-14 o'clock . (There is also 4 isles package which is also about NT800 but it's tiresome because you have only 20-90 mins on each isle.) (If you don't want to ride a scooter, there is tourist buses on Chimei and Wan-an. The bus would stop at some famous spots and it costs NT 100/person for each isle.)
*Choice 2: to the northern isle-Jibei, ship fee is NT300/person. Isle scooter rental is NT200/scooter. Jibei is famous for participating aqua activities. You can pay extra NT500 for aqua activities.
*Choice 3: to the eastern isles where is famous for the basalt world heritage. You don't need to rent vehicle. The package costs NT1300/person including lunch.
I'd recommend you to go the the south. Chimei is many lovers' number one choice. You can see the attached photo.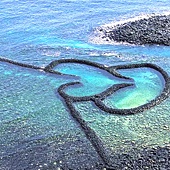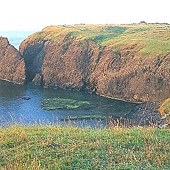 ---
Q11:If we want to go to Qibei Island and QiMei Island
, but not Wang'an Island, is there a tour for this?
A11:Accommodation is not a big problem. If you have to come during weekend and it's hard to get tickets, you can come one day earlier.
Therefore, you may go and stay one night in Qimei. There is public transportation boat that set off at 9am from Magung to Wan-an and Qimei. The boat arrive Qimei at 11am and come back to Magung in the afternoon.(13:30 from Qimei, arrive Magung at 15:30. If you stay in Qimei, you come back the next day afternoon.)
Qimei is far away and you feel the beauty if you stay a whole day there. Alternatively, there is Ton-Pan plus Qimei one-day tour.
Qibei is easy to arrive. There are several boats and it just takes 15 mins to there.