Taiwan's Penghu Islands were listed by Lonely Planet, the world's largest travel guide publisher, as one of the 10 best secret island groups in its new 2011 guide.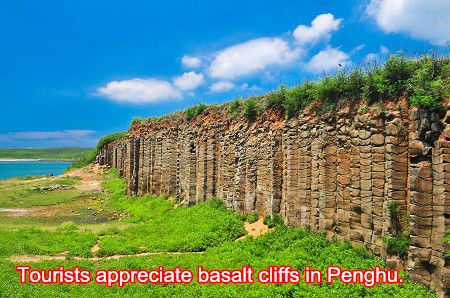 Publication Date:12/30/2010
Source: Taiwan Today
By June Tsai
The travel guide picked the archipelago of 90 islets in the Taiwan Strait
for preserving distinctive traditional Taiwanese culture as well as unspoiled natural scenery.
It took particular note of Penghu's basalt cliffs, fish traps and stone-walled fields, and the fact that endangered green sea turtles nest on its beaches from May to October.
Locals maintain a tradition of leaving turtle-shaped offerings at temples across Penghu as part of the Lantern Festival on the 15th day of the Lunar New Year, the guide said.
While some tourists may shun Penghu between November and April for its exceptionally strong winds,
the guidebook chose it for an impressive windsurfing experience.
"
The beauty of Penghu lies in its relaxed pace of living and hospitable people
," Penghu County Magistrate Wang Chien-fa said in a statement Dec. 29.
"The government will continue to work to preserve Penghu's natural beauty, environment and resources as the best draws for Penghu," he stated.
Other island getaways picked by the Australia-based publisher include Yemen's Socotra, Japan's Yaeyama Islands, French Guiana's Iles du Salut and Panama's San Blas Archipelago. (THN)